Expert Brake Service and Repairs in Dubuque with Riley Subaru!
When it comes to servicing your Subaru's brakes and other components, you don't want to trust any old garage, especially when our close-to-home dealership serving the Lancaster WI area and state of the art service center here in Dubuque. We use only the best parts, materials, and have the factory-trained technicians that you will trust every time you bring your beloved Subaru in for service. We pride ourselves on a quick turn-around time that doesn't sacrifice on quality, so don't wait to make your appointment today.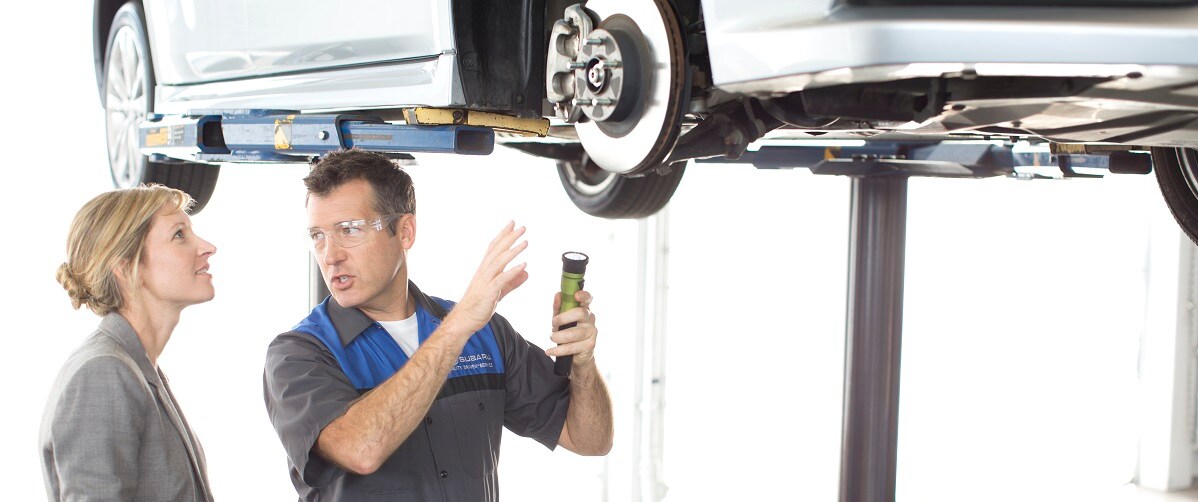 Brake Service Basics
While there are no hard and fast rules on when you should change your brakes in the Platteville WI area, like with your oil, but you can try and gauge how often you need to replace your brakes with a few simple tests. There are  number of factors that come into play when you think about brake wear, including:
Driving habits
Where you drive
Quality of the parts
If you are towing frequently with your Outback or Forester around town in Manchester, or you're routinely in stop-and-go traffic in your Legacy, all of these factors will come into play when you consider how often you'll have to change your brakes. If you service with Riley Subaru, you can trust that you're getting the high-quality brake components that you can count on for years, which isn't the case when you shop around to other garages in the area.
If you're hearing a squeaking or grinding sound when you apply the brakes, it might be time to have your brakes replaced. Brake pads are built with special metal beads embedded in the material, so once the pads have worn down they create an audible squeal to alert you that it's time to stop in for a brake inspection or replacement.
Make Your Appointment Today
Waiting to get your brakes serviced can be a dangerous risk to take in the Galena IL area. Once you start hearing the squeaking sound or noticing it's taking more effort to slow down, it's time to make your brake service appointment with us in Dubuque. We'll get you the quick and easy appointment you need, without having to go out of your way.
Hours
Monday

08:00am - 08:00pm

Tuesday

08:00am - 06:00pm

Wednesday

08:00am - 06:00pm

Thursday

08:00am - 08:00pm

Friday

08:00am - 06:00pm

Saturday

08:30am - 02:00pm

Sunday

Closed