The 2021 Subaru Love Promise Customer Commitment Award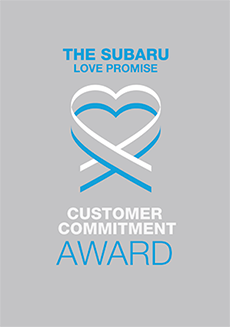 We've been nationally recognized for our dedication to our customers and the Subaru Love Promise.
We're honored to receive the 2021 Subaru Love Promise Customer Commitment Award. This award nationally recognizes Subaru retailers who demonstrate excellence in all areas of customer-focused performance. It highlights exceptional customer service that builds lifelong relationships with Subaru owners.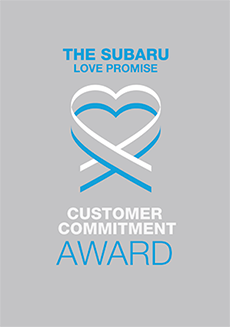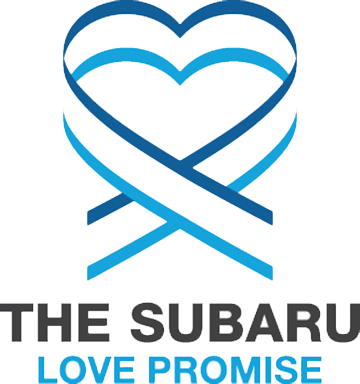 What is the Subaru Love Promise?
Subaru and our retailers believe in making the world a better place and the Subaru Love Promise is our vision of respecting all people. This is our commitment to show love and respect to our customers and to work to make a positive impact in the world.
How is Riley Subaru dedicated locally to the Love Promise?
Our Love Promise can be seen in various partnerships with local charities and non-profits. We're grateful for the opportunity, not only to be a part of our community, but to serve it as well.
Junior Achievement, Dubuque Museum of Art, Grand Opera House
Dubuque Soccer Complex, Toys For Tots, Mystique Ice Arena, Dubuque Arboretum, Veterans Memorial Plaza
Love Promise Stories from Riley Subaru
Subaru and Riley Subaru believe in making a positive impact on the communities in which we live and work. We uphold that belief through our Love Promise Community Commitment. Every month, we select inspiring stories from customers and partners from around our area who strive to support our collective commitment and feature them here
Riley Auto Spreads Love, Warmth, and Hope - Maren B
On July 15 the Leukemia & Lymphoma Society Iowa Chapter and Riley Auto has the pleasure of delivering 80 blankets to Wendt Regional Cancer Center as part of the Subaru Loves To Care program. These comforting gifts were accompanied by personalized messages of hope written by the customers and staff of Riley Auto. This incredible act of generosity was warmly received by the Wendt Regional Cancer Center staff who were thrilled to distribute these comforting gifts to their patients.Barb Potts the Executive Director of the Finley Health Foundation stated, "Thank you very much for the latest supply of blankets. Your generosity will be brightening the days of those we serve at the Wendt Regional Cancer Center. A warm blanket goes a long way in providing needed comfort after therapy. We appreciate your continued partnership with Finley. "LLS is proud to partner with Subaru to spread hope, love and warmth to those fighting cancer, across the country and right here in the Dubuque community.Many thanks to everyone at Riley Auto and Wendt Regional Cancer Center not only for a memorable day, but for supporting LLS's mission to cure blood cancers and improve the quality of life of patients and their families.
---
Loves to Care Program - Sharon K
For the third year in a row, LLS and Riley Subaru staff delivered blankets and care cards to the Wendt Regional Cancer Center in Dubuque, Iowa. We had the pleasure of meeting several of the staff nurses, the Finley Health Foundation Director and the Wendt Regional Cancer director. The hospital is starting a new program for the patients, which includes a care package to all the cancer patients, and they were very excited to have the Subaru-LLS blankets as a part of that initiative this year. LLS looks forward to continuing this partnership with both entities and is Thankful for all the work done by Subaru!
---
Subaru Loves to Care partners with LLS - Keena R
For the second year in a row, LLS and Riley Subaru staff delivered blankets, care cards and craft kits to the Wendt Regional Cancer Center in Dubuque, Iowa. We were able to deliver 80 blankets, 10 craft kits, and many care cards to the patients. We had the pleasure of meeting several of the staff nurses, the Finley Health Foundation Director and the Wendt Regional Cancer director.Jeff Haun, the co-owner of Riley Subaru Mazda said, "The staff of Riley's have all had loved ones touched by cancer, and we are pleased that we could give back in support the wonderful work the Wendt Center has done in our community."On our way out I walked with Jeff, and we spoke about how cancer seems to affect everyone. He was very appreciative of the work we do at LLS. He even paused a moment took off his Subaru-LLS bracelet, has he noticed I didn't have one, and gave it to me. It was a kind gesture and a great reminder of the partnership we have with Subaru.
---
Subaru and NWF Love the Earth! - Edward G
We are excited to be partnering with an Eagle Scout who will be creating a butterfly garden in the space pictured. He will be working with volunteers at the end of June to till up the garden and plant the flowers that were sent to us from Subaru. We are very excited to add this phase of our outdoor learning lab that will include the bird houses, feeders and bath along with some other elements our Eagle Scout is planning. We are very appreciative of your support!
---
Riley's Subaru Lives the United Way - Wendy S
Once again, Riley Subaru and its customers have gone above and beyond through their recent Share the Love Event donation of $7,500 to United Way of Dubuque Area Tri-States. It is United Way of Dubuque Area Tri-States' mission to connect people and resources to advance the health, education and income of those in need in our community. Here is the story of one of the 47,416 individuals served in the last year thanks to supporters like you! A young mother stopped in to United Way. She was transitioning out of Opening Doors, a local women's shelter supported by United Way, and into an apartment of her own. The shelter had assisted her in finding a new job with good pay, but before she could start, she needed one thing--a sweatshirt. The shelter referred her to the Community Clothes Closet, an initiative of United Way's Women UNITED. Before leaving with her new sweatshirt, the staff at United Way asked if her daughter was signed up for Dolly Parton's Imagination Library. The United Way funded program provides one new book each month to all children in Dubuque County under the age of five. Its purpose is to promote reading at home. After signing up for the program, the young mother said with a bright smile, "I may be a single mom, but I'm doing it all!" By removing barriers to self-sufficiency and providing tools and programs to improve the health, education and income of local citizens, we are living the United Way. Thank you Riley Subaru!
---
Riley Mazda Subaru Mitsubishi Shares the Love - Joey T
We are so fortunate to have a community partner like we have in Riley Mazda Subaru Mitsubishi. Recently, United Way of Dubuque Area Tri-States was the recipient of a generous gift from this remarkable business. Their gift, in the amount of $8,973, will be used to support individuals and families throughout the tri-state area as we work with local non-profit partners to ensure that every child has access to a good education, that each of our citizens feel the freedom of financial stability and that our entire community should be healthy and strong. It is because of the philanthropic support from such community-minded partners like Riley, that we are able to fulfill our mission to residents of the tri-states. We are incredibly grateful to Jeff Haun and all the staff at Riley's...we couldn't do what we do without YOU!
---