The 2023 Subaru Love Promise Customer and Community Commitment Award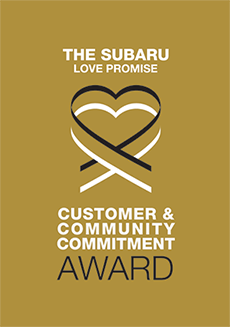 We've been nationally recognized for our dedication to our customers, our community, and the Subaru Love Promise.
We're honored to receive the 2023 Subaru Love Promise Customer and Community Commitment Award. This award nationally recognizes elite Subaru retailers who provide an exceptional customer experience at every interaction with Subaru. These retailers have also demonstrated an outstanding commitment to supporting passions and causes in their local communities in important areas such as the environment, community, health, education, and pets.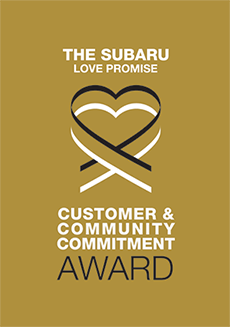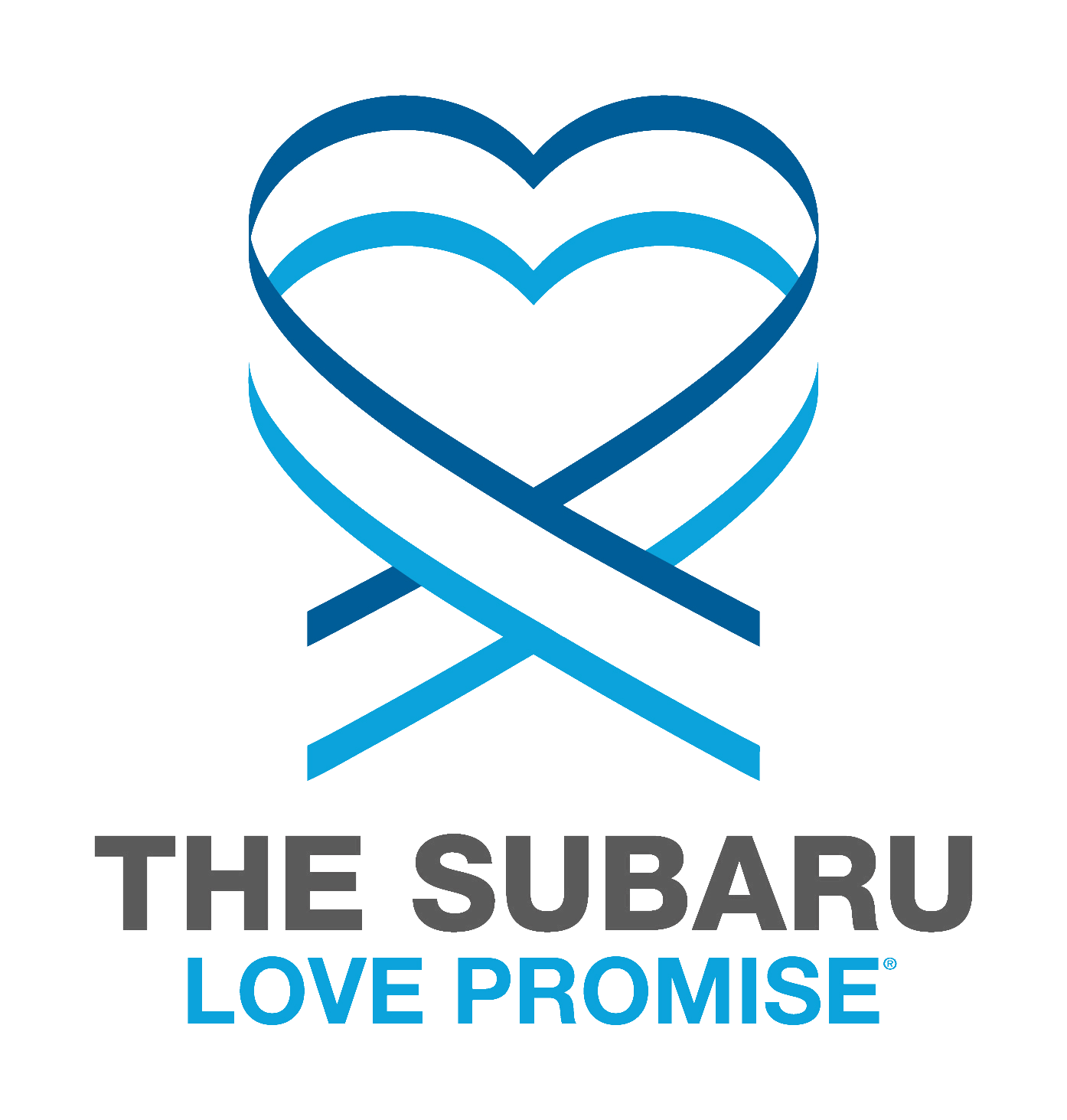 What is the Subaru Love Promise?
Subaru and our retailers believe in making the world a better place and the Subaru Love Promise is our vision of respecting all people. This is our commitment to show love and respect to our customers and to work to make a positive impact in the world.
How is Riley Subaru dedicated locally to the Love Promise?
Our Love Promise can be seen in various partnerships with local charities and non-profits. We're grateful for the opportunity, not only to be a part of our community, but to serve it as well.
Junior Achievement, Dubuque Museum of Art, Grand Opera House
Dubuque Soccer Complex, Toys For Tots, Mystique Ice Arena, Dubuque Arboretum, Veterans Memorial Plaza
Love Promise Stories from Riley Subaru
Subaru and Riley Subaru believe in making a positive impact on the communities in which we live and work. We uphold that belief through our Love Promise Community Commitment. Every month, we select inspiring stories from customers and partners from around our area who strive to support our collective commitment and feature them here
Socks Help the Homeless! - Ann L
Opening Doors provides hope and healing for women and children experiencing homelessness in Dubuque, IA and the surrounding community. Since our program began 22 years ago, we have served over 4,500 women and children helping them learn life skills, job skills and goal setting with the ultimate goal of earning a living wage and finding safe, affordable housing. The majority of women we serve come to the shelter with few belongings. We welcome them by providing fresh clothing, supplies and food to help these families start focusing on their future and their journey to self-sufficiency. Our staff and residents loved seeing the huge donation of 500 socks provided by Riley Subaru! This large donation ensures that our intake room shelves will be stocked well into the future! Each of the women we serve have unique struggles and goals, but socks are a universal need! We are honored to partner with Riley Subaru through the Love Promise program that has helped so many nonprofit organizations and people in need in our community over the years!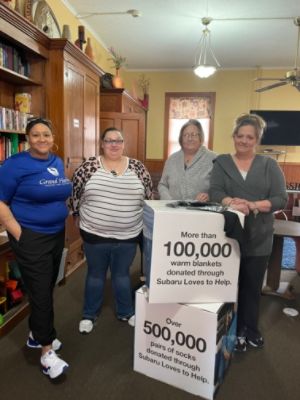 ---
TOYS FOR TOTS 2022 RILEY SUBARU - Bobbi P
Every year we think of ways to help our community. Toys for tots is an easy way for us to say, "yes we will help"! Our customers also bring in gifts for children. Thank you, Riley's and the Dubuque Community, for another successful collection of toys--for tots.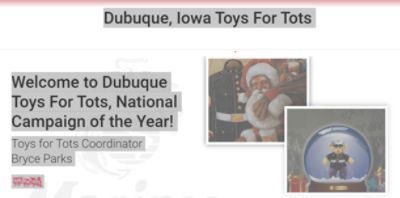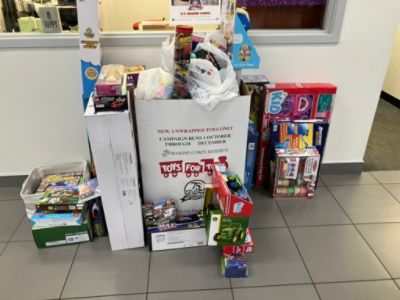 ---
My Admiration for John Riley Remains Strong-through 10 Subaru purchases - ROBIN C
Everyone at Riley's is always friendly and helpful, so I hesitate to point out any individual. However, I was fortunate enough last week to be there at the same time as John Riley, the founder of the dealership. My husband and I bought our first Subaru, a little brown station wagon, in 1979, when the business was located at an old Dog and Suds on Rhomberg Ave. John was our salesperson, and he continues to remember me now, whenever I happen to be in the building for an oil change. My brown station wagon is long gone, but my admiration for John remains strong. I have always had a special affection for John Riley - as well as his beautiful classic cars. It was a winter day when Ed and I drove down Rhomberg intent on buying our first Subaru. We had moved from the Chicago suburbs to Galena and quickly realized that we needed a whole different type of vehicle. I happened to attend a school conference in the area and saw a Subaru with its 4WD marking (we still had to shift into 4WD at that time) in the parking lot. I burst into the meeting room demanding to know who owned that car and where I could get one. Ed and I drove across the bridge the next day and started our Subaru love affair. John was delightful that winter day, and he still is. I must add that everyone there has always been terrific. I miss John C, Jeff H and Eric B, who seemed more like friends than employees. You have always been very helpful. Greg J is terrific. Summer and King make every visit a special pleasure. I did not know about your own long-term connection with the family, but I loved reading your story. I had to laugh at learning about John's racing past, but somehow I am not all surprised. His own integrity and vision have certainly made his crazy adventure, starting to sell Subarus back when they were rare and quite a story. Up until 10 years ago I would occasionally encounter a stranger in a HyVee parking lot circling my Subaru and asking me questions. Now I see a Subaru quite commonly on the streets - and in HyVee parking lots. I kind of miss feeling so smug about my special car. Robin joked with me that she was upset with John when she bought the last vehicle from him (her 10th). She said that it should be like a coffee punch card, buy 9 and get 1 free. John laughed, with this humor, but did not agree! Robin C.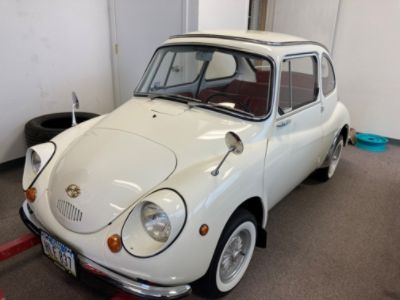 ---
#MAKEADOGSDAY OCTOBER 22, 2022 - Bobbi P
Thanks to Subaru, we have the Love Promise with five facets--one facet is that Subaru Loves Pets. The owner, Jim Riley, at Riley Subaru in Dubuque, IA, brings his dogs, King and Summer to "work" every day . Customers state that they come to Riley's to get their "Pet Therapy"! It is true, they enjoy them so much. #MakeADogs day was whole-heartedly supported as employees and customers "promised" their pets, just what they would do for them on October 22nd. The hand-written pawprints formed a heart and were fun and whimsical. Many were signed "Love, your Mom", "Love, your Dad", and "Love your Human". This awareness was so fun and it turned out to be a great decoration during the month of October for Riley's.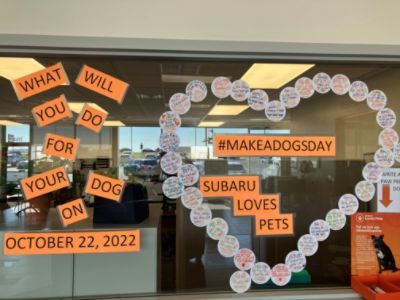 ---
RILEY SUBARU TEAM "COURTESY, CARE, HELPFULNESS" - CHIANNE S
When I purchased my car with the help of the wonderful salesman Taylor, my parents had gotten in touch with him to request a big bow to put on it when I came to sign paperwork. Taylor went to get a bow on his lunch break, just to make my first new car experience that much more exciting. It was entirely above and beyond. I will never forget that day! Since my purchase, I have experienced nothing but courtesy, care, and helpfulness from the Riley Subaru team, everywhere from sales to service. I recommend Riley to everyone in search of their next vehicle! Chianne S.
---
Light's Out - Ruth B
Called Riley's Subaru to get a new head light. Ken Ostert answered and said, "We can't have you driving with a headlight out." He got me in the same day and I was in and out in less than 30 minutes. And the car was washed also. Thanks Riley's Subaru! Ruth B.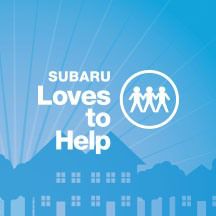 ---
Subaru has our back - Nancy S
Bobbi, Thank you for the great customer service you provided this week. During our vacation in Galena, our Subaru quit working. I called Riley Subaru in Dubuque and you scheduled us for the next day. Although we did not end up bringing the car in, I'm most grateful for your caring and thoughtful help. You kept the appointment open for us until we were sure the car was okay to drive home. It's nice to know Subaru has our back no matter where we are. Thank you, Bobbi! Warmly, Nancy S.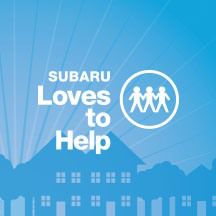 ---
Earth Day Clean Your Park - Kaytlan M
Nearly 20 staff members from Riley Subaru graciously donated their time and committed to assisting to keep our county parks clean and enjoyable Earth Day Weekend! They gathered their staff, family, and friends to collect litter and debris around the Heritage Trail and Campground. The crew collected nearly a truck load of material. Since Covid-19 park usage has increased tremendously. With this increase in usage we have seen an increase in park impacts from trail erosion, to litter, and wildlife dispersing differently. It's wonderful to see a business like Riley's pitch in and do their part to help make for a stronger community and better world.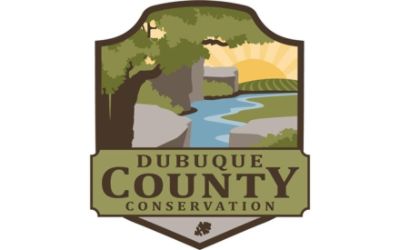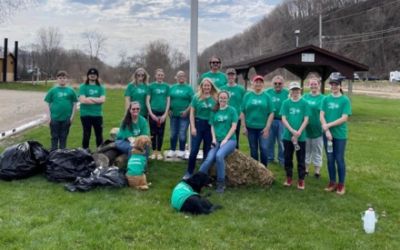 ---
Blankets to the Homeless - Richard M
Riley Subaru donated a case of 20 blankets to the Dubuque Rescue Mission. The Mission has been serving the needs of the poor and marginalized in our community for 90 years. The blankets will be given out to the men and women who come to us in need. There are times when some of those we serve do not want to stay in our shelter, they prefer the freedom of the outdoors. These blankets will go a long way in keeping them warm. Thank you! The Dubuque Rescue Mission staff.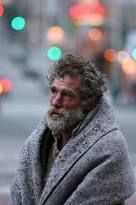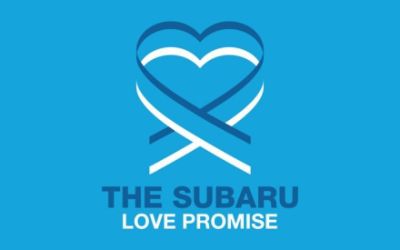 ---
Valentines for Veterans - B P
At Riley Subaru, they set up a table with supplies to hand make cards for Veterans of our armed forces. There will be 45 cards delivered to the University of Iowa Veterans Hospital in Iowa City Iowa made here. Riley's joined with another community partner for the card drive for Valentine's Day.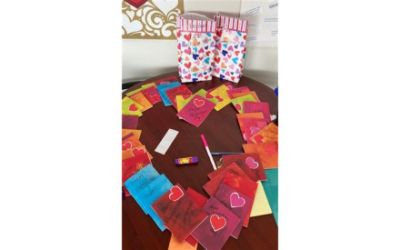 ---